Guanacaste, Tamarindo, tropical zone, green season, find what is common! Costa Rica, well done! A small country discovered by Christopher Columbus in 1502, its heavenly setting makes it one of the most popular holiday destinations in France. With its incomparable biodiversity, Costa Rica stands out for its ecological dynamism and its fervor to defend its ecosystem. But let's talk about the climate. While winter, rain and cold fall in Paris, the so-called verano season, is in full swing in Central America. From the Caribbean to the Pacific, between Liberia and San José, the dry season in Guanacaste oscillates between aridity, drought and the everlasting greenery of the mangrove, a treasure for ecotourism.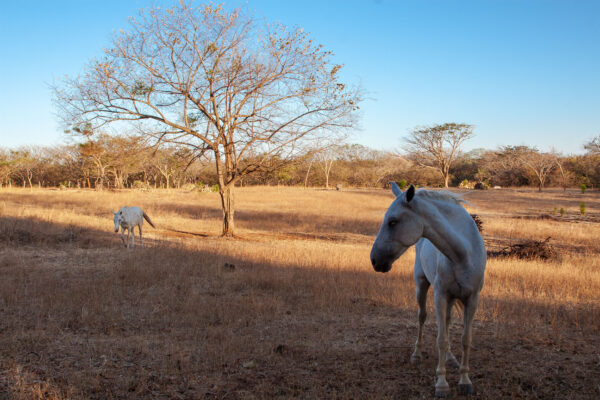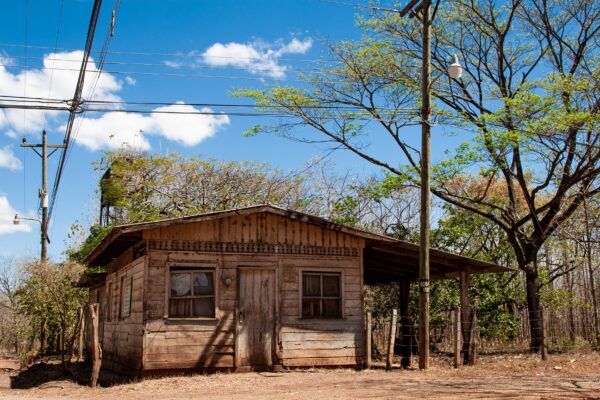 Dry season in Guanacaste | Idyllic period for holidays
Guanacaste, one of the seventeen provinces of Costa Rica, enjoyed by the warm and salty favours of the Pacific Ocean. Dream beaches and extremely rich fauna and flora distinguish this region located in the northwest of the country. Particularity of the tropical climate, two different seasons give themselves the turn. Locally called invierno and verano, one is characterized by its rainfall while the other provides an idyllic setting for those who appreciate the sun and heat. If the verano season, the summer, were to be summed up by a word, it would be aridity and wind. Oh yes, sorry, that's two. However small, the central American isthmus cannot be satisfied with a single qualifier.
Several weeks or even months pass without the slightest drop of water darken the sky. We are talking here about coastal areas. The central valley, for its part, keeps an almost constant rate of rain and humidity.
Indeed, between December and April, the Guanacaste takes off its green coat and dresses in yellow, ochre and other solar lights. The horizon spreads and the cattle admire the peaceful fields, free of any weather disruption. Temperatures are rising, up to 35° C during the day to the delight of tourists. Nights enjoy a relative respite as the thermometer does not go below 20° C. Is it summer or not? Liberia, the capital of Guanacaste, is ranked as one of the hottest cities in the country.
Do you prefer freshness ? Let's go to the heights.
The other Costa Rica | Mangrove, antidote to dryness
A very wealthy ecosystem
Yellow, ochre and arid, you said? Not only! Mangrove is an exception to the rule of drought. Defined by some as an «impenetrable forest», it consists of trees growing in the mud of the tropical coasts, dry season or not. As the most efficient ecosystem, mangroves are intermediate zones, as they are subject to tides, but protected from currents.
According to the ORNEC's report (National Observatory on the Effects of Global Warming), their system slows down the phenomenon of erosion. We even note here and there that land advances on the marine territory. Since 2018, an ecological restoration program has been working on 31 Costa Rican hectares.
Through the biodegradation of produced organic materials, mangroves enrich the environment with nutrients. It consumes nitrogen, phosphorus, oxygen and promotes the development of phytoplankton (microscopic plants that absorb carbon dioxide and emit oxygen), the basis of the marine food chain.
The cyclones are the only elements that can put such a force of nature at risk.
Note: mangroves in Costa Rica are part of the State heritage. Their destruction may send you to prison anywhere between three months to three years. School programs also raise awareness among Costa Rican secondary school students of this nature. The Rio Claro, Palmar Norte and Puerto Jimenez areas are collaborating on this operation. Indeed, another danger lurks in this extraordinary environment, man.
Mangrove of Guanacaste, hosting and food storage
The mangrove welcomes thousands of floral and animal species and ensures their survival and reproduction in a perfect natural balance. Mangrove trees provide shelter for avifauna, parrot macaws, green-backed kingfishers, and other feathered creatures. Their roots, called stilts, grow above the water, while on the ground, egrets or small blue herons walk around. Crabs find refuge in the mud, they dig holes to protect themselves.
As an inexhaustible source of food for local animals, especially aquatic ones such as shrimps and tiger-crabs, it also feeds humans. Honey, crustaceans, and fish abound there. It also provides many plants useful for medicine.
Will you prefer to discover mangrove by boat or paddle? Let us choose the perfect place and the ideal type of hike to penetrate this universe in peace and privacy.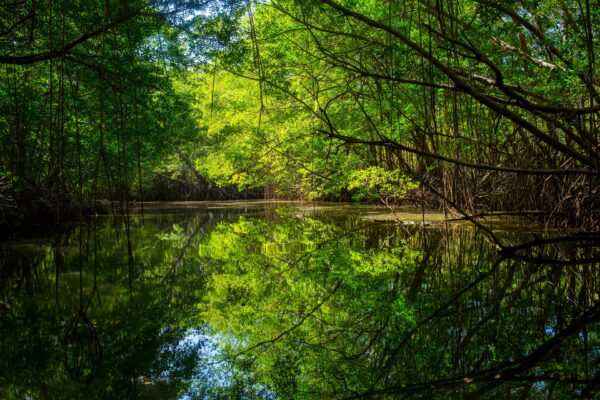 Top activities in Costa Rica during the dry season
What to do in Costa Rica during the dry season? Wrong question! The real topic is which Costa Rica do you really want to discover? How do you want to enjoy this little earthly paradise?
What will you choose from these few ideas that are far from exhaustive:
lounging on a private beach;
try surfing, snorkeling, diving, sailing or other water sports ;
contemplating the vastness of the richness of the fauna and flora during a photo safari ;
walking on a suspension bridge ;
facing the Arenal volcano ;
admiring the waterfalls ;
watching turtles, whales or crocodiles ;
forgetting time while hiking ;
tasting the many culinary specialties;
discovering local crafts;
having coffee with howler monkeys, of course, it's possible!
But, above all, please enjoy Costa Rica differently. Are you travelling with your family, friends or lover? Let us organize you a dream stay. Tell us what you like, we'll tell you where to go. Even better, we accompany you and settle all practical questions. Childcare, different desires within your group, personal rhythm, etc. You can trust us. Are you on holiday? So there's only one thing for you to do, take full advantage of.
I will discover my Costa Rica, I'm contacting You Come.
???? Did you know that ? Travelling intelligent in Costa Rica is financing reforestation local programs.????
Our information sources, except our deep knowledge of Guanacaste :