Visiting Costa Rica is a unique adventure. You never quite get over it. Caught up in the rainforest and its canopy, travelers use to marvel at the floral magic. Others prefer face-to-face with volatile, dangerous or game partners animals. For this, ideas abound between Playa Negra, San José or Tortuguero. Finally, another animation program: taste the pura vida and dare to meet the Amerindian culture. We are all unique and different, why wouldn't our holidays be? The multiple activities in Costa Rica allow personalized stays, on request. Because, with tailor-made travel, your guide points his arrow at the heart of your desire. Want a little glimpse? It's this way.

Unusual tailor-made travel: admire the Costa Rican flora
Discover a unique nature in the world: photo safari
Costa Rican flora safari, you know? No? Sure, we just invented the term. Imagine, a personalized and yet unknown way to discover, with family or friends, the thousands of endemic floral species. Here, the vegetation covers 50% of the country's surface. The trails of Rio Celeste and Rio Fortuna bear witness to this. Hiking among the 1,000 orchids and 1,300 trees offers a fresh and intimate look at this natural wealth. Tell us which flowers you want to admire, we will take you there.
The Guanacaste tree is the national emblem of Costa Rica. Did you know?
The canopy plays a crucial role in preserving the ecosystem. While traveling to Costa Rica, you witness this unusual and breathtaking spectacle. From the suspended bridges of Monteverde, Santa Elena, or near the Arenal volcano, our guide, who is also a photographer, explains how to frame and immortalize this miracle of biodiversity. Original, right? Do you prefer more intimate places or test zip lines? No problem, it's our job.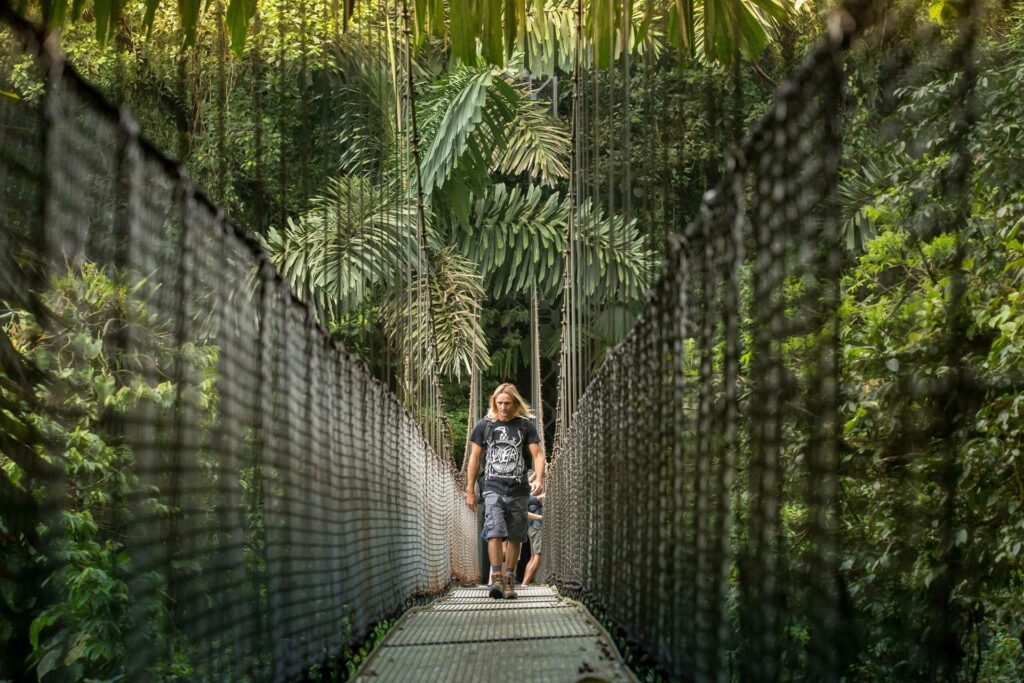 .
I want to learn how to photograph the waterfalls of Costa Rica while hiking in Rincon de la Vieja National Park or elsewhere…
Participate in the reforestation of Guanacaste
Another unusual circuit to experiment with your children: the discovery of reforestation. For this, we concoct a tailor-made itinerary. Real environmental and economic issues, as pointed out by Costa Rican President Carlos Alvarado, reforestation struggles every day against the real estate race. Many projects and associations work to maintain plant surfaces. As an eco-tourist, you are actively involved in this vital effort.
Activity in Costa Rica: rubbing shoulders with wildlife for sensations on demand
Rare volatile species: secrets of unusual travel
Represented by the resplendent Quetzal, Costa Rica is full of scenic wildlife treasures. Symbol of freedom and considered divinity on Earth by the Aztecs, this multicolored bird is subject to many protections. Some projects, such as Kabek, in the Cerro de la Muerte, are working to preserve it. Going to meet it is a miracle.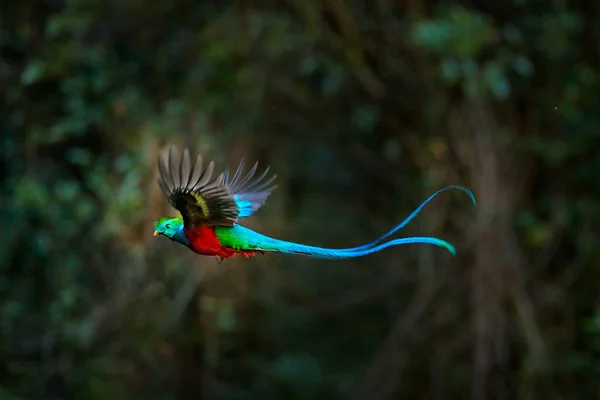 Will you accept the challenge?
The red Ara parrot lives on the Osa Peninsula. Maybe you will also find the toucan there. A personalized trip and hop! You start a walk off the beaten track, but full of unique events in the world.
Dangerous Costa Rica: a confusing journey, just for you
It's impossible not to offer this type of route to adventurers that may be you. Threatening species are avoided…or not. You decide what kind of vacation you want. Crocodiles on the canals of Tortuguero or the viper in the rainforest are also unusual photographic trophies to slip into your luggage.
But don't trust Mother Nature's apparent beauty! The pretty little tree frog with redeyes defends itself badly thanks to its toxic secretions used by the Native American as poisons on their arrow.
Will you make the difference between a puma and a jaguar? You will, if you include visiting Corcovado National Park or Santa Rosa in your personal journey. But, perhaps you will let the guide choose the most suitable place to observe these felines?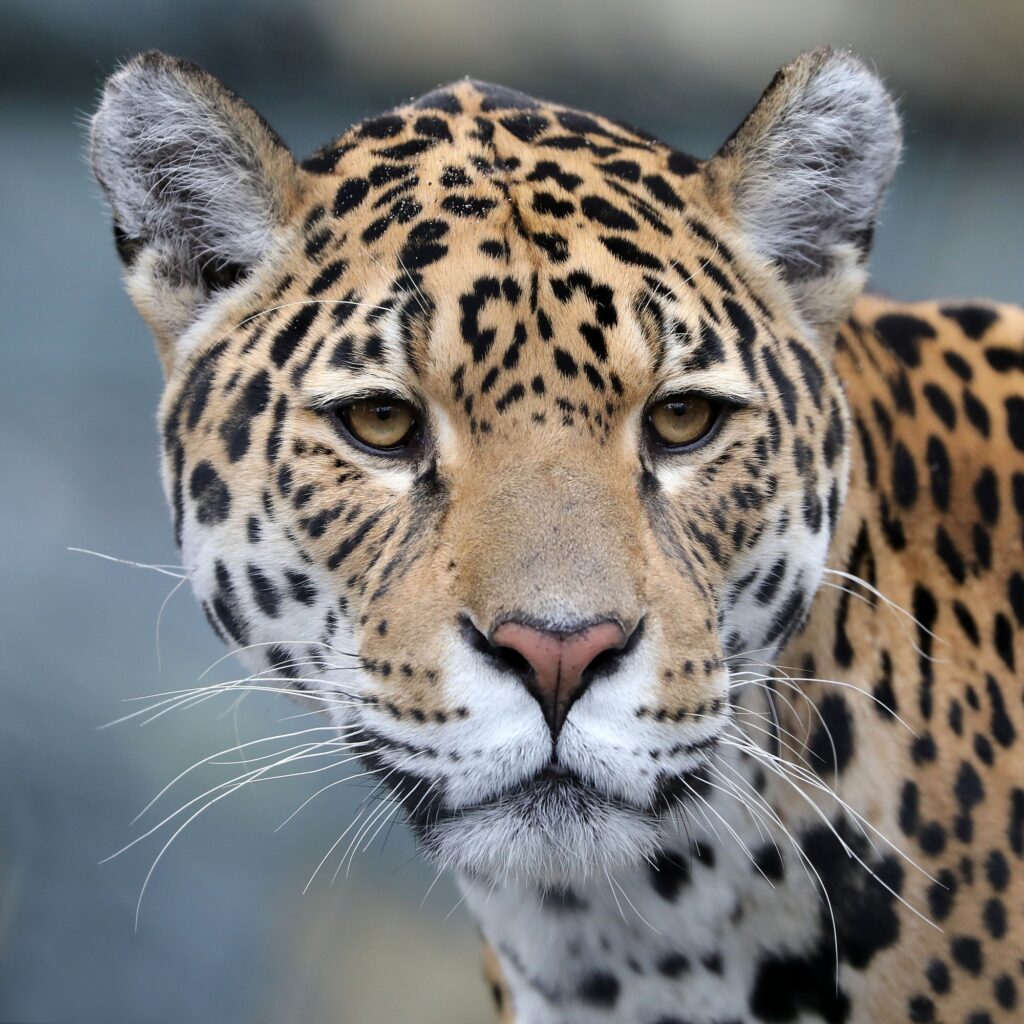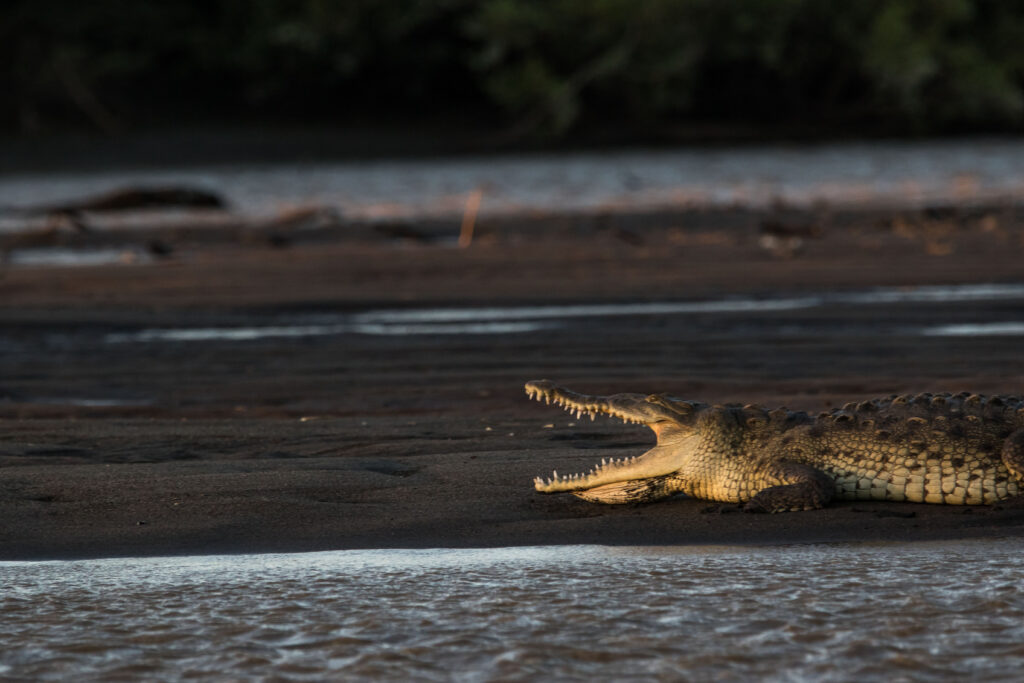 Approaching rare and wild species
But Costa Rica has other surprises as original and typical, although much sweeter. Close to Playa Negra, accommodation in Los Nancites allows you to enjoy breakfast with the howler monkeys. Their inimitable cries wake you every morning: a joyful cacophony that you will not taste anywhere else. Finally, a special ride for you during the arribadas and you can witness the nesting of the Ridley, Lute or Caret turtles: a unique phenomenon, protected and regulated.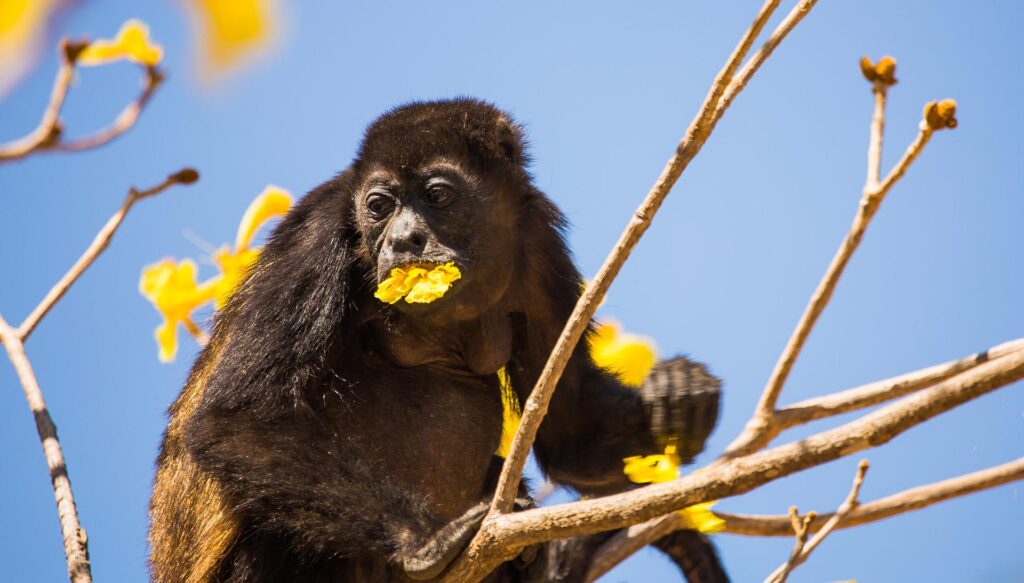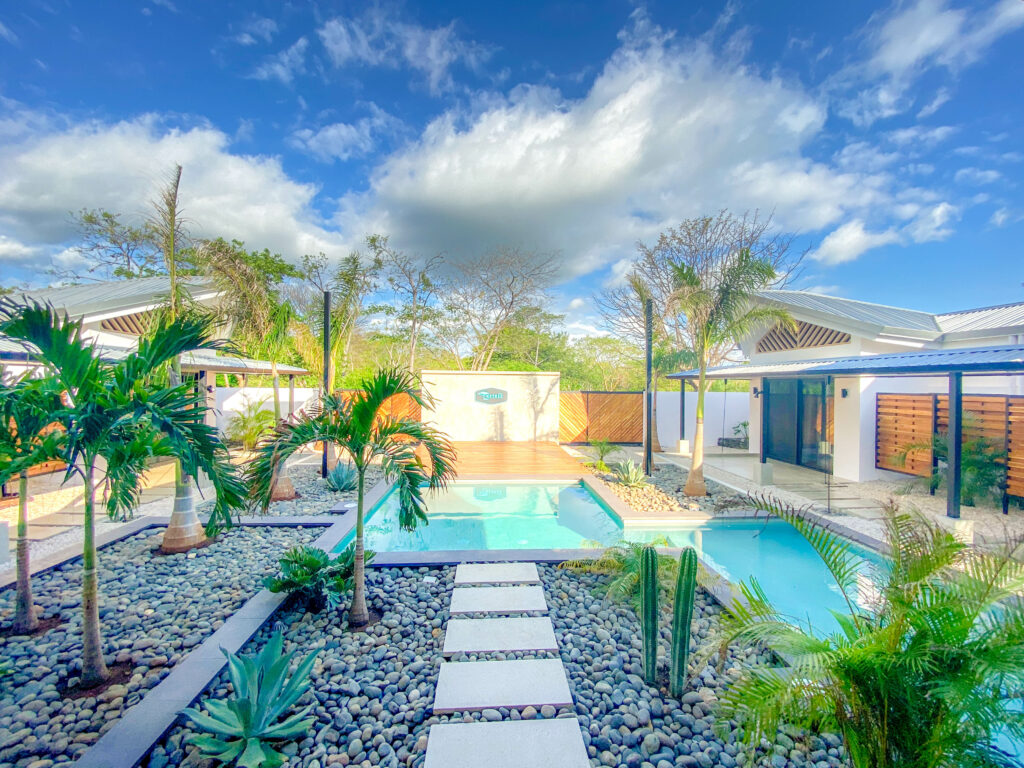 Personalized stay in Costa Rica: meeting Native American culture
Visiting Indigenous Peoples
Are you looking for unusual stays? Native American culture abounds in treasures of ancestral civilizations. Aztecs, Mayans and Incas left a legacy proudly taken over by the indigenous peoples present in Costa Rica. Believe us, it is surprising to spice up your stay by visiting the huts of the Quittirrisi native Americans. Highly committed to the local economy, Juan Sanchez perpetuates traditions and protects the Native American spirit.
7 indigenous tribes live in Costa Rica: Brebis, Huetares, Guatuso, Borucas, Cabécares, Guaymi and Quitirrisi.
The village of Guaitil exhibits their famous pottery, reflections of secular South American Indian customs. The villages of San José or Santa Cruz offer many unforgettable surprises to curious travelers.
With a stay on demand, our guide takes you in the footsteps of these peoples to discuss, learn and exchange with those you will probably never see again.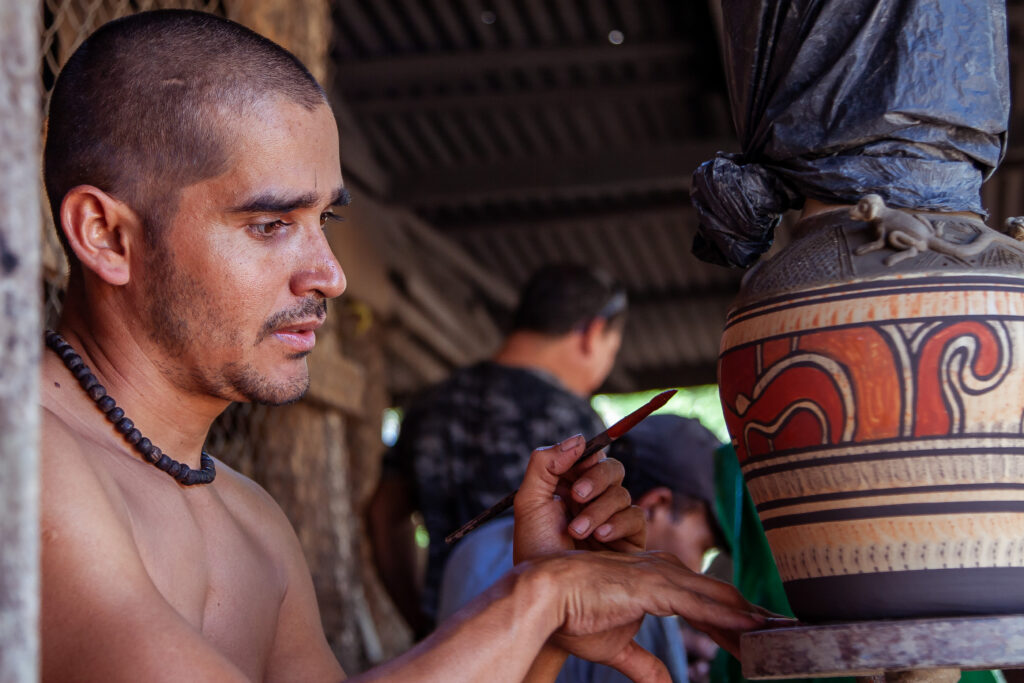 Pura Vida still there
Of course, unusual holidays do not prevent from enjoying the most famous joys:
kite, surf and various water sports;
paddle in the mangrove;
massages in your ecolodge;
tasting the culinary art of a chef at home;
horseback riding in Guanacaste;
organization of events: birthday.
The practice of «yoga with a mission» in Playa Negra remains a separate activity that only Caro offers.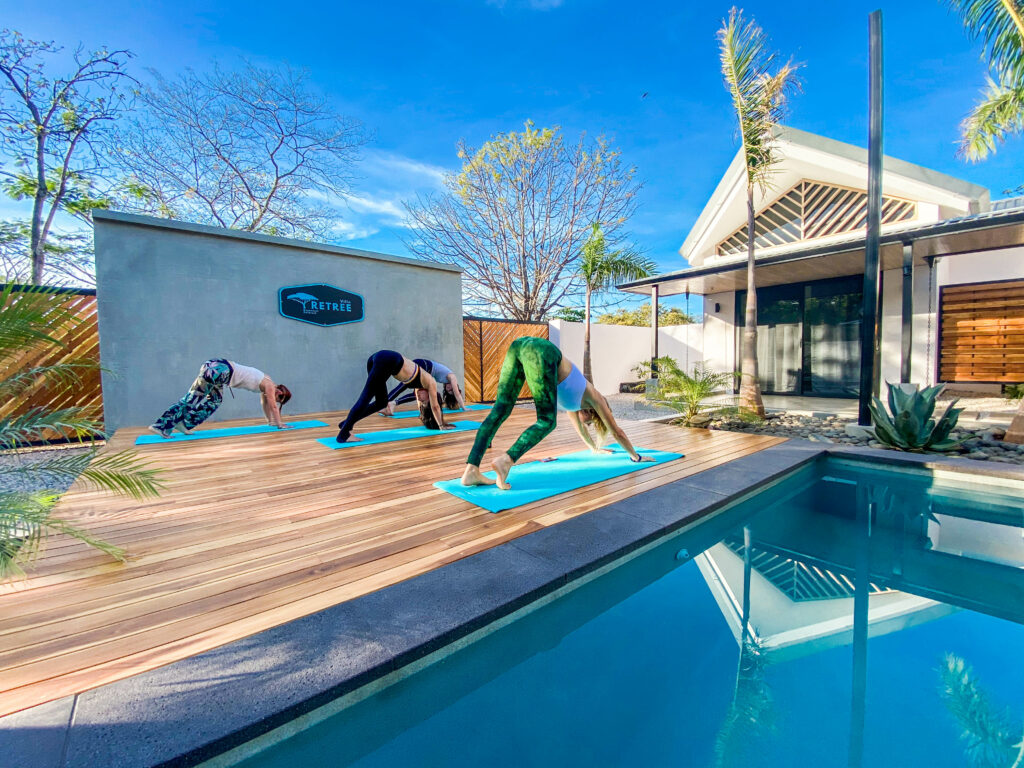 Other desires? Ask us and we'll set you the best program, just for you. We prepare a tailor-made change of scenery for unforgettable memories. Private villas available.
Our limited-edition tours offer you a new Costa Rican experience. Looking for a trip off the beaten track? Sylvain and Caro offer you to travel out of time between road trip and all comfort.